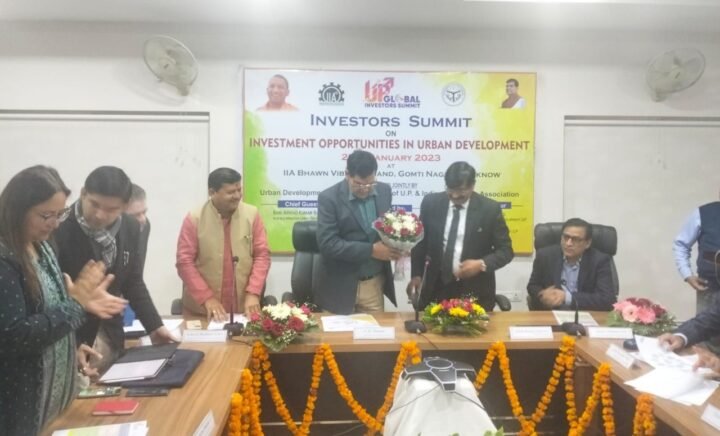 English News
Investment proposals worth more than Rs 20 thousand crore received in the investor summit organized by IIA and Urban Development Department.
Immense possibilities of setting up industries for the development of cities – A.K. Sharma, Urban Development Minister
Need for investment of Rs 5 lakh crore in urban development of Uttar Pradesh.
Prime Minister and Chief Minister of Uttar Pradesh felicitated the entrepreneurs – Ashok Kumar Agarwal National President IIA.
LUCKNOW: Under the joint aegis of IIA and Urban Development Department, Uttar Pradesh, the Investor Summit on "Possibilities of Investment in Urban Development" was organized today on 25 January 2023 at IIA Bhawan Vibhuti Khand, Lucknow. The chief guest of th summit was Shri A.K. Sharma Honorable Minister of Urban Development and Energy, Uttar Pradesh and the summit was presided over by Mr. Ashok Kumar Agarwal, National President IIA. Honorable Minister of State for Urban Development Mr. Rakesh Rathore Guru and Principal Secretary for Urban Development Mr. Amrit Abhijat were present as guest of honors.
Addressing the Investors Summit, Minister A.K. Sharma said that I have been talking to IIA, but it was nice to meet all of you today. I have been very close to MSMEs. We have worked for this sector in Gujarat. I have seen this department closely in the center also. He said that MSME is very important and urban development is called as growth sector. In the coming days, the means of livelihood will increase rapidly and urban areas will also develop. The Urban Development Minister said that there is a lot of opportunities in all the cities. We are moving towards one trillion economy. We need to bring new technology for projects related to city development. Other countries have technology and we have to go ahead of them. He said that there are many possibilities like solid waste management, making biogas from wet waste. Industrialists may come forward and use these possibilities.
Addressing the summit, National President of IIA, Ashok Agarwal said that Modi ji honored the entrepreneurs who were earlier called thieves. Entrepreneurs beautified Gujarat and today entrepreneurs are being appreciated. Yogiji has also given us respect. Now we are busy in making Uttar Pradesh Uttam Pradesh. He said that we are working for development of the state. IIA is playing the role of 'Key Partner' in the Global Investors Summit. So far, IIA has organized investor summits in collaboration with the district administration in various districts of the state, in which investment proposals worth more than 1 lakh crore have been received. In today's summit also, IIA members have presented investment proposals worth about Rs. 4000 crores in enterprises related to urban development. Mr. Agarwal said that this is only the beginning, if the government's cooperation with the entrepreneurs remains the same, then the entrepreneurs will participate enthusiastically in the investment possibilities of Rs. 5 lakh crores in urban development in the state.
Addressing the summit, Mr. Amrit Abhijat, Principal Secretary, Urban Development, said that the way the need to provide modern facilities in urban development is increasing, many possibilities of entrepreneurship development are also arising. Now we are moving from traditional cities to smart cities and the level of our cities has to be at par with developed countries.
Mr. Ranjan Kumar, Secretary, of Urban Development said in his address that there are many possibilities for business innovation in cities, which include energy production based on waste, compressed biogas plants, road construction from waste, mechanized toilet cleaning and wastewater purification, etc. The possibilities of urban spaces like smart parking etc. are rife. Mr. Ranjan Kumar told that 95 investment proposals have been received in today's conference, in which investment of more than Rs 20000 crore is proposed. This investment will increase further in the coming days.
Mr. Murali Mohan, Director, Deloitte told in his presentation that an investment of Rs.5 lakh crore is needed to create urban conditions in Uttar Pradesh, for which several enabling policies have been announced by the Uttar Pradesh government.
More than 100 participants participated in today's investor conference at IIA Bhawan Lucknow and around 200 participants were connected online from different parts of the state.
Other senior officials of the Urban Development Department were also present in the conference, including Mr. Anil Kumar, Principal Secretary, Urban Development, Mr. Rajendra Panacea, Special Secretary, Urban Development and Ms. Neha Sharma, Director, Urban Bodies, Uttar Pradesh.
The investment conference was moderated by Mr. Dinesh Goyal, General Secretary IIA who also presented vote of thanks to the participants at the end of the summit. Former President of IIA Mr. Sanjay Kaul, Mr. G.C. Chaturvedi and Mr. Anil Gupta, National Vice President Mr. Chetan Bhalla, National Secretary Mr. Awadhesh Agarwal, Divisional Chairman Ayodhya Mr. A.K. Aggarwal, Lucknow Chapter Chairman Mr. Mohit Suri and Barabanki Chapter Chairman Mr. Pramit Singh etc. also attended the summit